Well, I am updating the first post and page with what has been done to the car and a picture of how it looks now, plus I will leave up the orignal pictures and post, I did when I first got it.
Year:1990
Make: Volkswagen
Model: Jetta GL 2 door (coupe)
Engine: 1.8L 8v head (ported and polished) with 2.0L aba bottom end, autotech cam, adjustable cam sprocket, DigiFast chip, corrrado rubber valve cover gasket, upgraded power and ground wires, dual port exhaust manifold and techtonics downpipe, Techtonic hi flow 90-93 passat cat, techtonics cat back exhaust with borla muffler, vr6 coolant resivor bottle, solid rubber front mount, rear mount with poly insert
Transmission: 5spd, lightened flywheel, 16v pressure plate, 8v clutch disc, neuspeed short shift kit with power weigh, vince special short short kit, G-60 mount.
Suspension: Raceland coilovers, vr6 upper strut mounts, polyuretane rear shock mounts, r/32 control arm bushings, polyurethane front sway bar bushings.
Brakes: R1 concepts slotted and cross drilled rotors (front & rear), Hawk HPS brake pads, stainless steel brake lines
Lighting: Stock aero headlights, silver star ultra bulbs, headlight realy harness, rear taillights converted to accept euro bulb trays , rear fog light wire installed with factory connectors and wire.
Extertior: Euro plate tub, single wiper conversion, big bumper conversion, passat front bumper lip, pull style door handles, tinted front bumper lights, hood struts
Intertior: Recaro power front seats,matching rear back seat, match door & rear panels, carpet swap, rear deck panel swap, reverse glow gauges, gauge trim rings, momo steering wheel with adaptor, momo shift know with boot, early seat belt conversion, adjustable seat belt pillars, early lower dash conversion, trunk carpet, factory smoked dome light, emgerncy flasher switch relocation to steering column, rear c pillar black pillars (replaced tan factory ones), contura switchs
Audio/video : Jensen motorised headunit with 7 inch screen, , alpine sperates , sony rear speakers, pioneer amp for front speakers, pioneer amp for sub, image dynamic sub in box, diesel audio cap, sony playstation 2
Misc: viper car alarm with power door locks, tinted windows, peripheral ipod adaptor
Present and current repairs, mods and swaps happening:
Install mk3 map lights
Install roof antenna (need to drill hole for antenna and connect the lead)
Install trunk power lock with trunk release (waiting for some more stuff)
Clean up and fix wiring (Still in the process, it is going to take a while due to time and space)
Future to do and parts list:
VW pedals either r line or r/32 or tt pedals
Relocate the a/c & heater controls.
Relocate or elimnate the center vents.
NRG short/thin steering wheel quick release.
Duostyle gauges
Fix and paint wheels
Euro bulb tray
Elimnate banana lights
Elimnate fender antenna
Install factory fog light harness for front
Install Mk4 power fused distrubtion block.
Rear sway bar either neuspeed or autotech
MMP smaller, lighter battery with mounting brackets.
Six speed transmission conversion (upgrade to either a 02s or 02m)
Retint rear side windows to match the back window
Tint front windows
Fix body damage and paint car.
Custom subwoofer grill
Strut bars front upper and lower, rear
Coupe badge
Center console (votex or swg)
Custom door sill plates
Racing harnesses
Canadian lower dash driver side
Ashtray with power plug in place of center vents (canadian or euro one)
VW first aid kit
VW tool kit
Underdrive/lightened pulleys
MK4 2.0 lifters (lighter then the stock ones for my motor)
Serperntine belt conversion.
Quafie or Pelquin differental
Center exit for the exhaust instead of the present exhaust exit
Install power sunroof motor and harness.
Audi a6 120 amp altenator.
HPR air jack system.
Racing tow hooks
Carputer
Convert rear seat to fold down style like in the gti.
MK3 a/c lines or custom a/c lines
VW mk3 jetta/gti side mirrors.
Corrado g60 or vr6 or mk3 vr6 gas tank (holds more fuel)
Flip down monitor for trunk (to allow friends and other people play video games without having to go into car)
Swap big bumper to Small bumpers.
MK3 wiper motor
Here how the car looks now.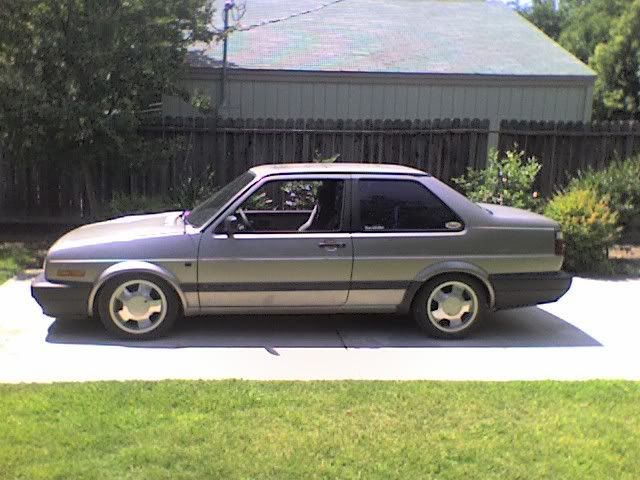 This is when I first got the car.
It is a 1990 jetta coupe, 5 speed, ac, never been into a accident and never been modified. It has only 94,000 miles on the odometer.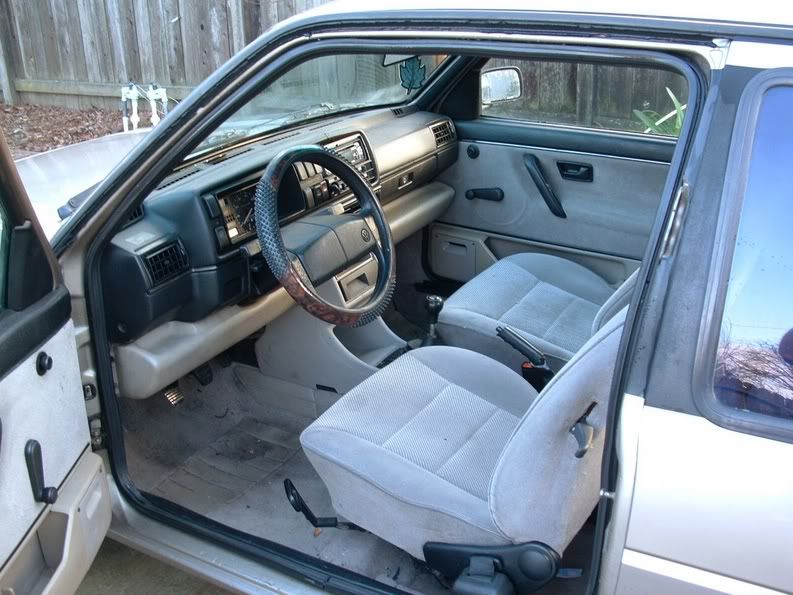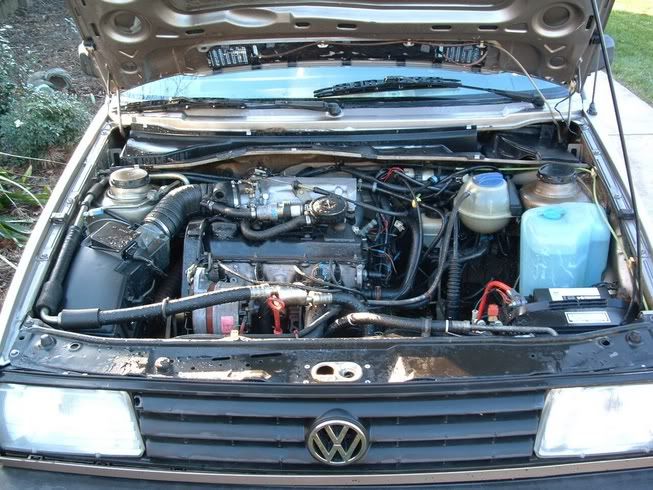 Here is story about this car from the time I bought it until now. It is a 1990 volkswagen jetta coupe, 1.8L digifant 8 valve engine, 5 spd, a/c, sunroof and in decent shape. Found this car while browsing for another car to replace the other jetta (a bad deal from a friend that took the car back and still owes me 200 dollars). The owner said it did not run it could be some electrical problems, and also it sat for two years, which I thought at worse it could need a engine swap. He said I could purchase for 500, which I did. First day I got it home I went throught the car and found many problems, wires burnt, melted and touching each other, missing door vapor barriers, dead battery, missing shift bushings and a few minor missing screws. Charged the battery (thank god, I did not need to buy a new one. Replaced the messed up wire harnesses and return the rest of the wiring back to stock. Replaced the shift bushings and various other small minor items. Put new plugs, plug wires, cap, rotor, gas, fuel filter, oil, oil filter and air filter. The fired up the car for the first time earlier this year and glad to find out the motor is good shape. Put in some custom gauges. Now I am dealing with smog, did not pass the first time, but with the tt exhaust with borla muffler, new high flow cat, new oxygen sensor, dual down port exhaust manifold and downpipe and new hangers and gaskets the car will pass smog. Just installed big bumpers.
Here is picture from when I got till now and also some of the parts I have either installed or going to install. The car only has 95,000 original miles and the engine and transmission have never been out of the car.