Well, I'm hanging out enjoying some days off and wanted to say herrro to everyone. I've been terrible at staying in touch with pretty much everyone at home, so I thought I'd give a lil group love and an update.
I'm living in Vail, CO and have been since May of '08. I originally just came out for a couple weeks, but I got a job and decided to stay since Chico isn't exactly a booming economy as of late. After that, my plan was to only stay until January...I recently received a promotion and decided to stay for the busy season since once again, Chico isn't a booming economy as of late.
(Side note: If anyone is looking to do a ski vacation let me know)
I did get to come home in November for a little while. While on that trip, I made another trip to LA area with Justin (subwire) to acquire my new bebe:
We had some big problems with it (save that for another post) but it finally made it out here safe and sound in early December. There's a long list of wants and needs for it, but here's the basic info:
92 GTI VR6 (originally an 8v) BAR certified swap from a 92 corrado (subframes, axels, etc.) with a peloquin LSD, tt stainless exhaust, GIAC chip, etc.
Finally got some ice melter and kitty litter, got it out of the parking space it's been stuck in for the last month, and drove it around yesterday. It...was...awesome. The tire places around here blow so I've been hesitant about dropping $350 on some POS winter tires
Here's some more pics (sorry about the snow, I'll get some better pics in a month...maybe):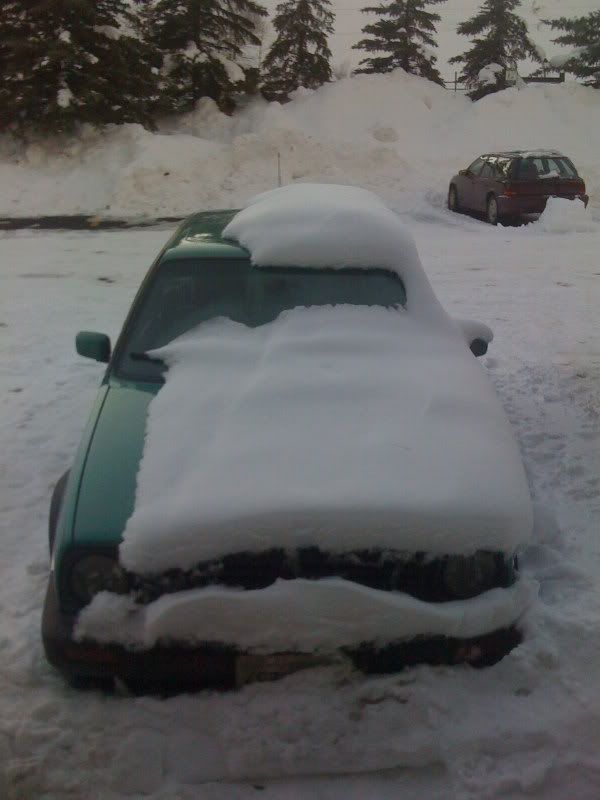 Update:
There's a nice new dent (getting pulled out of snow
), my sideskirt randomly flew off one day
, and I took some other trim off because the roads here are teh crap. Anywho shittily washed it (for the first time in like 3 months) and snapped some pics. I think I might wash it well tomorrow and get a few more shots-as well as that engine shot that was requested...
and photobucket is being a whore so I'll post those in a few